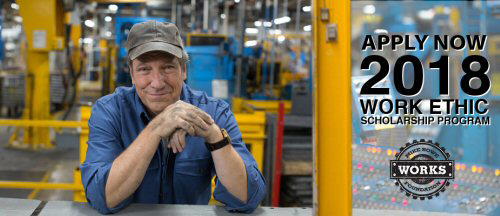 If you are interested in training for a career in plumbing, carpentry, welding and other skilled jobs that are in demand you will want to apply for the 2018 Work Ethic Scholarship Program. The best part is you don't have to have a 4.0 GPA to apply. You just need to be someone who believes in working hard and not making excuses.
Here are the requirements in a nutshell. To get the full scoop, please got to the mikeroweWORKS Foundation website.
1. You must sign the S.W.E.A.T. Pledge. It stands for Skill & Work Ethic Aren't Taboo. Basically no cry babies allowed. You must be a person who works hard and doesn't expect everything to be handed to them.
2. Two letters of reference. Before you ask neither reference can be from your mom, dad, grandparents, etc.
3. Write an essay talking about why you want to work in the skilled trades. This is your chance to talk yourself up.
4. Attendance records not required but they will take em if you have em.
5. Short video to make your final case for yourself. Kind of like closing arguments at a trial.
Lastly make sure you follow all the requirements to apply for the scholarship to the letter. This is where reading everything and attention to detail comes in. Probably the most important step in the whole process.
If you like to sleep in, don't take initiative and whine about how life is unfair or too hard then this is not the scholarship for you.
The Work Ethic Scholarship is for people who want to learn a skill that will keep them in demand for the long haul, for people who put in a hard days work without complaining and who gives a 110% all day, everyday. If that describes the you, then apply today!